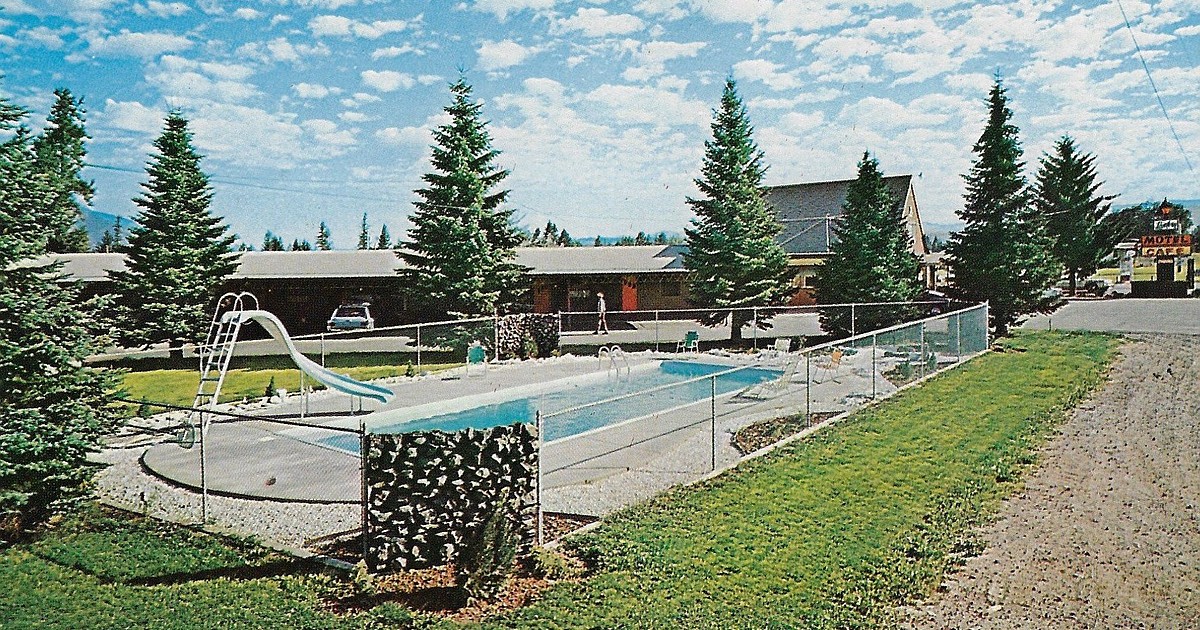 From the Archives – Sep 23, 2021
Many of us have hidden hidden treasures. This postcard was found and returned to the museum last week. This place will bring back many memories to hundreds of residents of Boundary County.
With a photograph taken by Will Hawkins and posted by Ross Hall Scenics in Sandpoint, the back of the postcard reads:
"This beautiful swimming pool faces a luxury motel (with perfect TV reception), a large dining and living room; as well as 70 KOA campsites, a large game room and a gift shop. We are located in the heart of Northwestern hunting and fishing, surrounded by a myriad of lakes, streams and backcountry. Located 1 1/2 miles south of Bonners Ferry, 35 miles from the international line and gateway to the Canadian Rockies.
Miller and Mostek built five new tourist cabins in 1950 along Highway 95 (site of Super 1 and Subway). They called it the M&M Motel. In 1970 Miller and Mostek added KOA campsites. That same year, they renamed it Lantern Motel and added a dining room called Lantern Café, built in an A-frame style.
A fun grand opening was well attended by the community. The place got very "lively" when the Lantern Café acquired its beer license in 1977.
The Boyengers bought the cafe and motel in 1982.
In 2011, a groundbreaking ceremony was held for the Super 1 grocery store. All that remains are exciting memories and stories of the once "infamous" "Lantern Motel, Cafe & Kampground" known in Bonners Ferry, Idaho.
Your Boundary County Historical Society and Museum, 7229 Main, Bonners Ferry, Idaho is sponsoring this column.
Visit the museum Thursday through Saturday, 10 a.m. to 3 p.m., visit the website at www.boundarycountymuseum.org or the museum's Facebook page for historical photos and stories and to see upcoming events. We can be reached at [email protected] or at 208-267-7720. Thanks for your continued support!