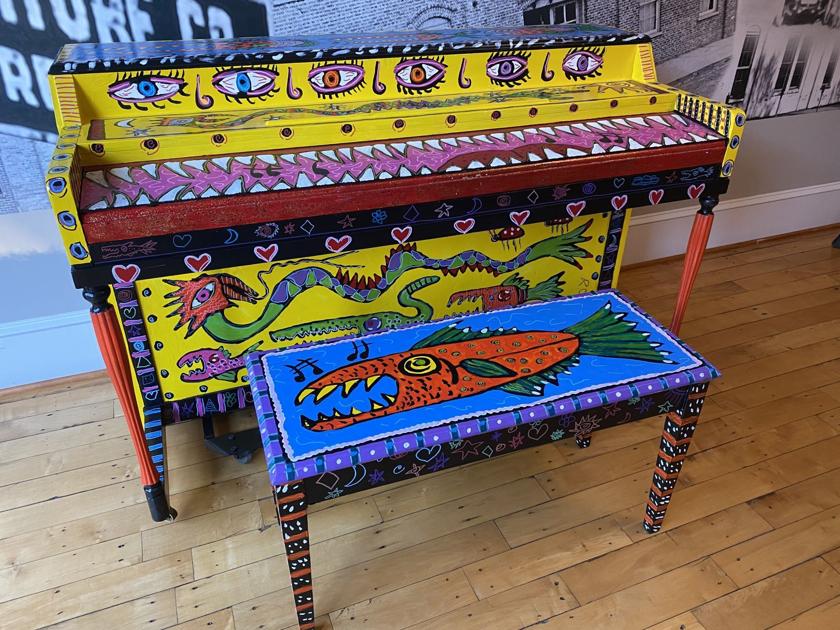 Street pianos arrive in downtown Sanford | Archives
The City of Sanford Appearance Commission is making music interactive for residents and visitors of downtown Sanford by adding two street pianos to the public art program.
Works of art themselves, the pianos were hand painted by local artists. Reggie Carde brought his signature style with hieroglyphics influenced by nature. Shauna McNeil also took inspiration from nature when painting a field of sunflowers.
The Street Pianos are the result of a public-private partnership between the City of Sanford and the Lee County Arts Council, which established its first Artist-in-Residence program for the project. Under the direction of Irene Smith, the pianos were stored and painted at the Council office on Steele Street.
"Street pianos are a fun and interactive way to add to the art and music of our downtown area," said Mayor Chet Mann. "We pride ourselves on making music accessible to everyone and hope passers-by will take every opportunity to play it. "
"Mayor Mann and Sanford City Council have been big supporters of the public art program since its inception in 2015," said Liz Whitmore, planner and liaison with the Appearances Commission. "Without their commitment to this program, we wouldn't have a city full of public art – and more on the way."
The sunflower piano will be on display at the Temple Theater until the end of its season. The other will be on display in the courtyard of the Buggy Company Building on weekdays in good weather.
Street pianos will be dedicated on November 7 at the Temple Theater during the downtown open house. Education Director Gavan Pamer will play on one of the pianos while the Temple Teen Ensemble will perform holiday standards. The event will start at noon.
"The Temple Theater is thrilled to be part of such a vibrant arts community. From our gallery of local artists that changes with every production on stage, to this latest addition, "said Peggy Taphorn, artistic director of production for the theater. "The Temple Theater is a showcase, partner, employer and inclusive venue for all types of regional artists."
For more information on the public art program or to find out how to get involved, contact Liz Whitmore at [email protected] or 919-718-4657 ext 5393.